What to see? What to do? Where to eat? These are the questions we ask Google, a friend who has visited the place or a local when planning our guide to our next destination, right? Indeed! That's why I'm here today: to bring nice tips about things to do and places to go when in Dublin - not only the ones you'll find in every blog posts, but places that many times people arrive and leave Dublin without having no idea they exist. No, don't get me wrong: I do love the main attractions, they do carry a lot of history, but I want to give you options of nice, stunning and not-that-famous spots for your to explore in this vibrant city! Let's have it started! :)
Poolbeg Lighthouse
Who doesn't like to get some fresh air while enjoying a beautiful view, maybe even watching the sunrise/set? The Poolbeg Lighthouse is here to help you with this difficult mission, hehe!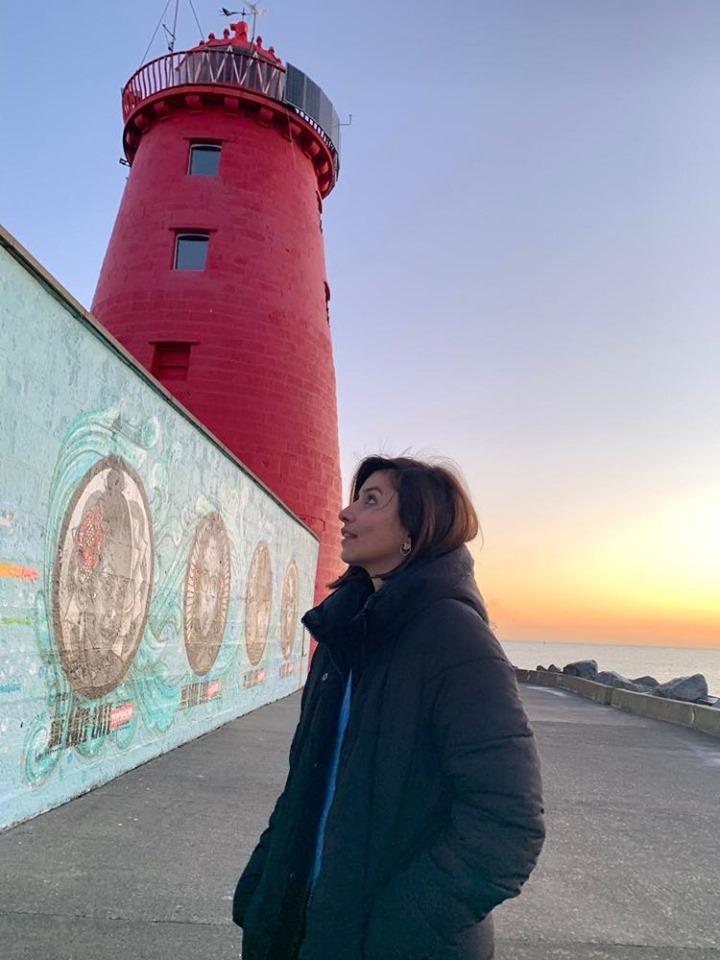 Located in Dublin bay, it was the first lighthouse in the world to be operated on candlepower - and 20 years later changed to oil. By the time it was built, it was considered the one of the longest seawalls in the world. Nowadays, it remains one of the largest ones in Europe and surely one of the best walks in the city.
It's hard to predict the weather here but, if it's a nice one, my advice is to reserve half of a day to get to see this place.
How to get there?
If you are in city center, the easiest way is to catch bus number 1 (which departs from O'connell Street Lower), and drop in Sandymount, Seafort Avenue stop (ask the driver to let you know when you get there) - this will take approximately 30 minutes. Whenever you are there, follow the coast and it'll will lead you to the lighthouse, allowing you to enjoy a beautiful view along the way, which is around 4 km long - if you go to have a stroll, relax and enjoy the view, reserve around 80 minutes to go and another 80 to come back, besides the time you'll spend there. At the very end: it's a program you can do in one morning or afternoon, and enjoy the rest of the day doing something else around the city. Talking about it, let's go to the next tip!
Clothing needed: it can (and usually gets) pretty windy there, so go prepared. Even on sunny and warm days, take a coat with you: before the sun shines or when it's gone, you'll feel cold!
Killiney Hill Park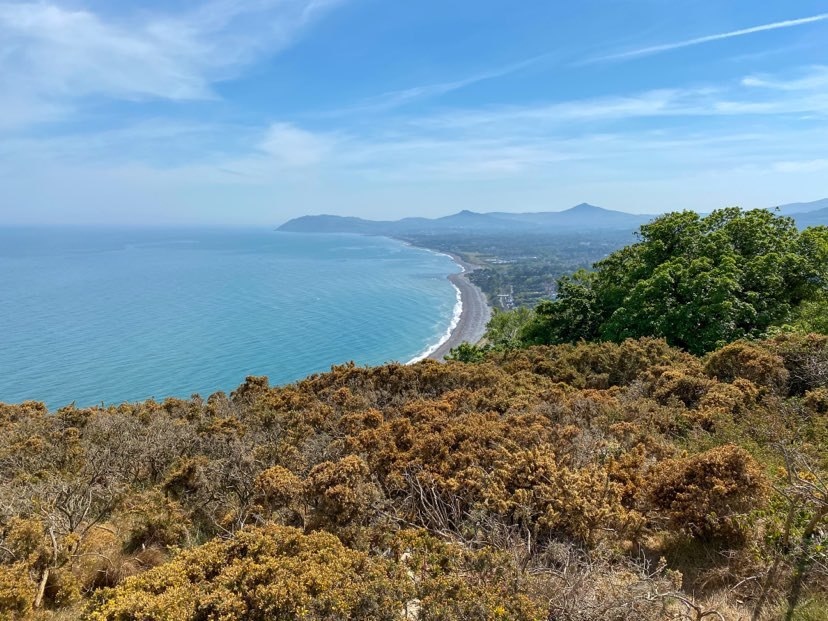 Walkers, hikers and nature lovers: i'm calling you out here! :D If you are willing to see the natural beauty Ireland can offer you and scape from a super urban tourism for a few hours, that's for you. Killiney and Dalkey Hills are part of Killiney Hill Park, a public park overlooking both villages of the same name. The view over surrounding areas is stunning and, on a clear day, you can see Dublin to the northwest, the Irish Sea and the mountains of Wales to the east and southeast, and Bray Head and the Wicklow Mountains to the south.
Despite the amazing and really breathtaking views (believe me, I was impressed and fell in love with this place at the minute I've got to the top), which already makes it all worth it, it's also a perfect spot for a picnic or even a romantic date!
How to get there?
If you are into sports and decide to rent a bike to go, it takes you around 80 minutes to get there - but remember, it needs to be a good bike, since you'll be climbing at some point. If you prefer something more relaxing and effortless, both bus and train are available to catch from city centre - and, once you get there, you'll need to walk around 25-30 minutes to get to the park (and the walk is a pretty easy one, by the way!). Google it to find out the best location for you to get the bus or dart (train) from where you are and off you go! :)
Cornucopia restaurant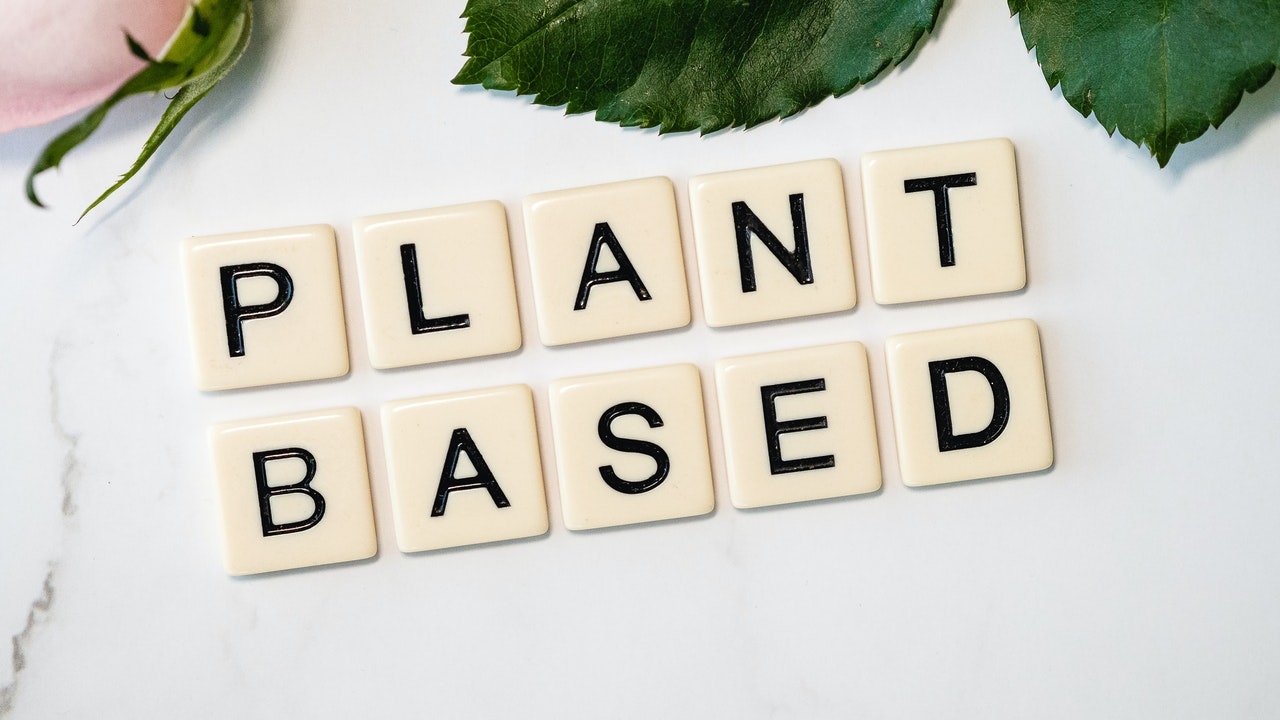 Image by Fuzzy Rescue from Pixabay
This is the best whole-food, vegan and vegetarian restaurant in town, no doubt! One of the oldest restaurants in Dublin, Cornucopia is located within two Georgian buildings in city centre, super close to many touristic points as Molly Malone Statue, Grafton Street and St Stephen's Green Park, which makes it the perfect stop for lunch time in between your visits to these attractions.
Focusing on sustainable waste management, they are specialised in vegan and gluten free cuisine and offer a huge and incredibly delicious plant based breakfast/lunch/dinner menu, which changes on a daily basis.
Besides the super tasting food, the place has been refurbished in recent years, and feels like an insider's place, offering cosy dining rooms - if they have availability, try the 2nd floor and you'll feel the magic in the air!
Howth
A small and inviting town, Howth is there to provide you with natural beauty, incredible seafood and the kindness of the Irish people! The best thing is that, within only 40 minutes by train - granting you an amazing view, by the way -, you are able to get to this cute fishing village from Dublin.
Depending on what you want to do there, you can either spend the whole day, or visit just for a few hours. On a sunny day, getting on the dart in the morning and heading there is amazing.
When out of the train station, right in front you'll find Howth Market, filled with delicious organic foods and sweets, Irish crafts, handmade jewellery and good vibes. If you want to gift your family and friends with Irish souvenirs, this place gives you the opportunity to buy something unique and different from what you'll find in the usual souvenirs stores in Dublin. Important note: it opens only during the weekend, 9am-6pm.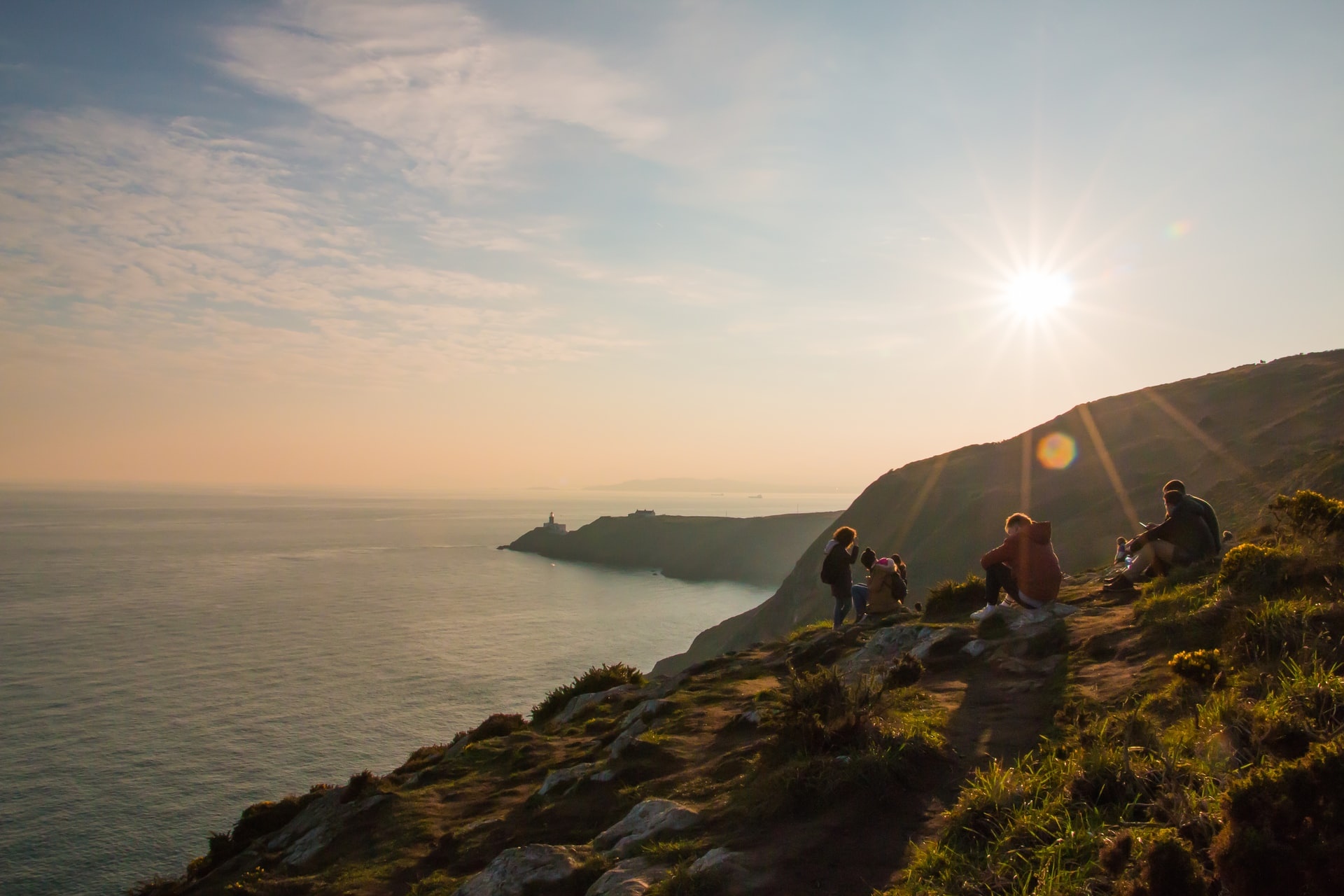 If you are a seafood lover, you'll find yourself in paradise here. Everywhere you look you'll see restaurants that offer very nice seafood menus and many of them gives you the option of eating outside, facing the beautiful view of the sea and the mountains on the back - have a look and choose the one you like the most.
Should you want to go to enjoy nature, Howth Cliff Walk Loop will make you happy! The hiking is not overly difficult, but of course having a minimum of preparation is a plus to make it easier. It'll take you between 2 to 3 hours to complete it -it really depends on your pace and, also, on the weather conditions: if it's a windy day, it's likely that battling the wind will make you take a bit longer, hehe. When it comes to clothing needed: bang on good grips walking/running shoes and having a waterproof coat is always advisable when hiking, specially in rainy Ireland! hehe. Wearing layers is also helpful in order to be able to adapt to the temperature!
National Gallery of Ireland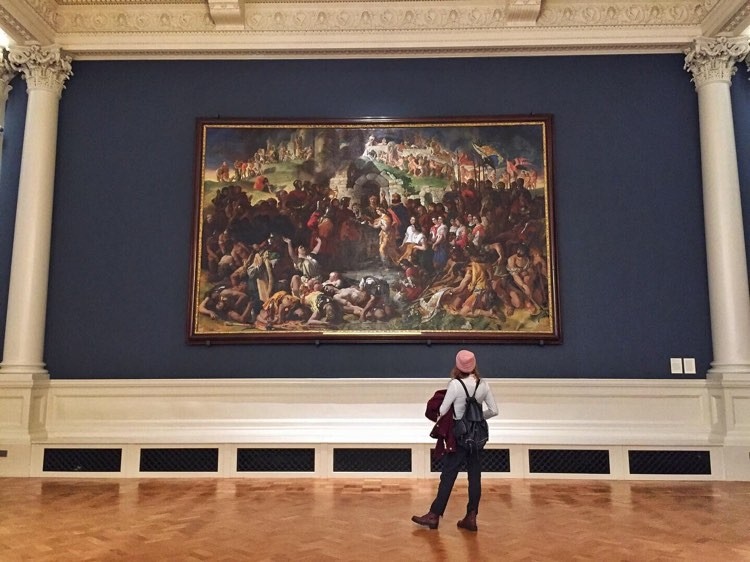 Situated in a super central location and also close to many other attractions, as Trinitty College, St Stephen's Green and Merrion Square Park, the National Gallery of Ireland is a must if you are an art lover and wants to learn a bit more about this amazing country. Besides all the history, its architecture and design are beautiful; and it always host amazing exhibitions. And the best of all: entrance is free of charge.
Should you are there wondering if you should include it in your guide or not and would like to have a preview on what you'll find there, check there website here: they have a virtual tour and podcasts about some of the works presented there!
Arthur's pub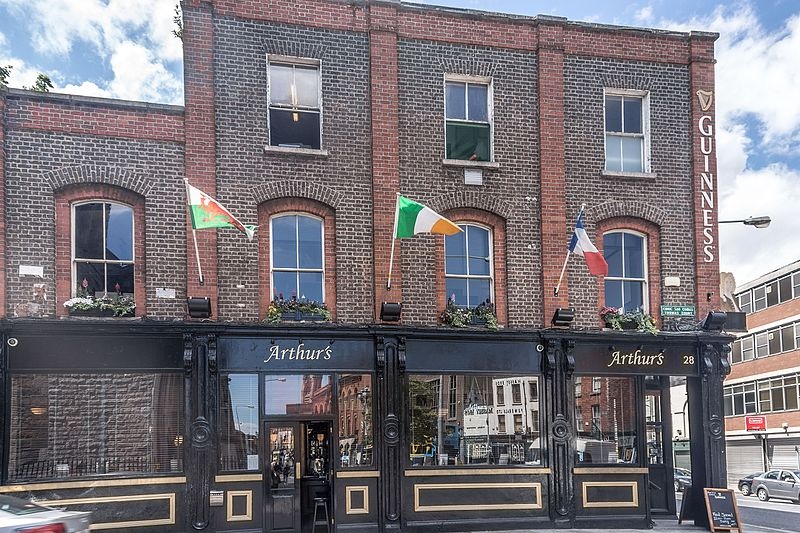 Located in the Liberties, one of Dublin's hidden gem, the Arthur's is a classic one in the city and the nearest pub in the route to The Guiness Storehouse. Open for over 200 years, it carries a lot of history, being beside St. Catherine's Church, and it retains its original shop front and layout.
During the day, a pub and a restaurant. During the night, the show kicks off and the restaurant becomes a blues and jazz venue, playing a mix of Irish music and having live music sessions in the evenings. It's impossible to be there and not to have a good time.
And a plus for you who is planning to come and stay with us at our rooftop hostel Garden Lane: you'll find Arthur's within a 5 minutes walk from our building. Great choice, great times! ♥
The clockwork door
As they like to say about themselves: "the most homely place you'll find in Temple Bar!". Either you are a remote worker looking for a different place to work from or you are strolling around city centre in a windy and rainy day and want a cosy spot to get yourself warm in between two attractions, I believe this place will suit you - and you'll be willing to be back there.
A new business concept named Timehouse, they function in a pay-as-you-go system: you pay for the time you spend there and get unlimited tea, coffee, biscuits, popcorn and Wi-fi. "Wait - what!?" Yes, that's it! They have standard rates for the time you get to spend there and you can enjoy their facilities. The rates are:
- 8 cent per minute (the first 2 hours)
- 6 cent per minute (the next 2 hours)
- 5 cent per minute (the rest of the day)
- min €1.50 / full day pass €20.
Important note: They are a non-alcoholic venue but you can bring your own food or get a take-away.
In their so called Main Room, the entertainment takes place in the evening: from bingo to storytelling nights, the venue becomes a very nice place to meet new people - solo travelers, that's a nice one for you!
Dublin is not that big but you can find a bit of everything here - vibrant city with kind people, the recipe to success! hehe :D
And please: our blog is here for you and we don't want you to get shy - get back to us should you have any questions, suggestions or criticism, we'll be glad to hear from you! And, of course, when on our places, remember: our staff is always eager to help you upon check in or during your stay, so also do not hesitate in popping by to get more and more tips for you to have THE CRAIC!
Love,
Gabi